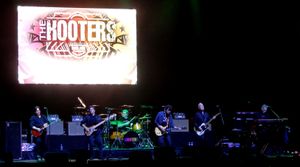 The Hooters were formed in 1980 with members Eric Bazilian, Rob Hyman, David Uosikkinen, Bobby Woods (bass) and John Kuzma (guitar), performing their first concert on July 4 of 1980 in their home base of Philadelphia. They got a boost from their music being played on their local station, WMMR, and played clubs and high schools in the area for nearly three years, culminating with a gig during The Who's farewell tour in 1982, joining Santana and The Clash as opening acts. In 1983 Hyman and Bazilian wrote songs for an up-and-coming singer's debut album, She's So Unusual. Cyndi Lauper's album became a multi-platinum smash, and the success filtered down to The Hooters, who were picked up by Lauper's record label, and with that some changes in the lineup arrived, Woods and Kuzma left and were replaced by John Lilley and Rob Miller (Miller was injured in a car accident shortly after the group's record deal was finalized and was replaced by Andy King). The group's second album Nervous Night (1985), was a big success and included three Billboard Top 40 singles; "Day by Day", "And We Danced", and "Where Do The Children Go", and their opening performance on the 1985 benefit concert Live Aid brought them international recognition. Their third album, One Way Home featured a new member, Fran Smith Jr. (replacing King), and the single "Satellite" became a hit in Europe, but failed to make the Billboard Top 40. In 1989 their third album, Zig Zag, failed to achieve any commercial success in the US but their European success continued to thrive. In 1990 the band appeared in The Wall Concert staged by Pink Floyd singer Roger Waters (with Sinead O'Connor) and recorded another album, Out of Body, before going on a six-year hiatus in 1995. 
In 2001 the band reformed for what was to be a one-off performance in Philadelphia, celebrating the 20th anniversary of legendary Philadelphia DJ Pierre Robert at WMMR. But they returned to touring in Germany in 2003, got together for VH-1 Classic's Decades Live Rock program with Lauper, and recorded a new album, Time Stands Still in 2007. They continue to tour Europe and mainly in Philadelphia, performing in one of the final concerts at the Wachovia Spectrum in 2009 known as Last Call, featuring Todd Rundgren and Hall and Oates.
In October 2019, the group was inducted into Philly's "Walk Of Fame" with their own sidewalk plaque on the Avenue of the Arts. The Hooters' positive songs and energetic live shows have endured as a joyful musical celebration for both the band and their enthusiastic fans, old and new alike, especially now in these uncertain times. 
The unforeseen arrival of the Covid-19 pandemic put their "20+20" 40th Anniversary Tours on hold but they certainly plan to celebrate this event in 2021 (now "20+20+1"). For all of this and more, the band members are very grateful.
For more info on The Hooters go to https://www.hootersmusic.com/
Philadelphia Music Walk of Fame 2019
 On October 22, 2019 The Hooters were inducted into the 2019 Philadelphia Music Walk of Fame.
The honors took place along the Avenue of the Arts in Philadelphia and concluded with the Philadelphia Music Alliance Gala at The Bellevue Philadelphia. The Hooters are a Philadelphia band founded by Rob Hyman and Eric Bazilian, which emerged in 1980 as a new kind of Rock band. They combined SKA, Reggae and Folk Rock. Hits include "And We Dance," "All You Zombies" and "Day by Day."
Today they remain one of Philadelphia's most beloved Rock bands. The Hooters are celebrating 40 years in 2020 with major plans set-up to highlight that achievement.